First Day of school!!
Well, it's finally here, the first day of a new school year. The summer was good but frankly I'm glad to be back on

track

and starting to get back on a more normal schedule. We did many fun things this summer. We went to an air show(it was free), 2 civil war encampments/re-enactments(just had to pay to park), a Weird Al concert(the concert was free/had to pay to park), a fair(they charged by the car load instead of each person), the drive in(got to bring our own snacks/drinks) and lots of swimming at the pool with our friend Mary. D learned to swim pretty well by summers end but G is still content with with shallow end of the pool.
We also had many fights with D. He is approaching 10 this coming Thursday but I swear he is turning 16 with the attitude. At times I don't think I have ever been *more* frustrated in my life and often walked away feeling like a failure as a parent. I hear this is normal and will only get worse .
I was very dismayed when I got the school calendar for the year. First of all I will have two kids in two different schools. Because our district does not have enough kids they have put *all* the kids from the entire district into several schools so G will be at the same school he was last year and D will now go to a different school for 4, 5, and 6

th

grade. Their schedules are very different. D had to basically be at the bus stop at the same time we got out of bed last year and will be done pretty early in the day. We were going to move his bedtime but he has to be up so early that we can't really.
We also have way too much time off. We barely have two weeks between "special days". We have two 1/2 days a month as well as 2 late start days every month. Then mix in your regular time off for holidays/records day/conference days and you are left with lots of time off. The longest stretch is the first two weeks of school and then the "special days" start. The worse months being October with 6 special days and January because of the end of Winter Break and a 4 day weekend for

MLK

.
There there is the HUGE gap in times between when they have to be on the bus and it will make getting everyone where they need to be interesting and involve a lot of waiting for me. Today with all the first day hoopla and how early D gets out of school, I barely had 25 minutes of peace. Of course tomorrow the whole day is FREE and quiet, I can't wait.
Here is D this morning: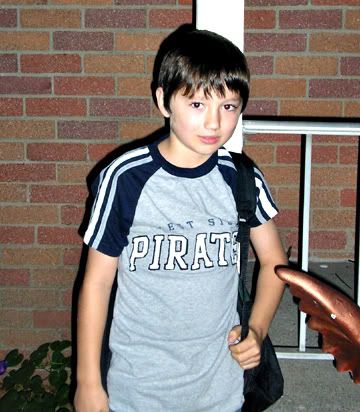 Dh

took him since he had to be there so early and so

Dh

wouldn't be miss as much time from work. We had gotten notice a a week ago of his teacher assignment and room and DH was not happy to discover when we got there that D had been re-assigned to a new teacher over the weekend. They have put him in a 4

th

/5

th

grade split classroom. It was done very last minute so DH says even the teacher wasn't sure how it was going to work but it was done mainly to keep class sizes down, which I appreciate. However, I have concerns. D is a good student, smart, but doesn't work as hard as he should without a lot of pushing. He is exceptional with language arts and reads above grade level(at one point last year it was near 3 grades above) but his math skills are shaky. I'm afraid they may want and expect the 4

th

grade students to work at the 5

th

grade level(and if I had a 5

th

grader, I would worry they would be teaching below grade level). With as shy as D can be at times, I'm afraid if they move too fast, he won't say so and get behind and overwhelmed.
The scuttlebutt at the bus stop helped some because I was told that if any teacher can do it, it's the one he has. She is supposed to be a good teacher that keeps an orderly class and good at working with kids on their levels. It just was done so last minute and DH felt like even the teacher wasn't sure how this was going to work. We did get a letter from the principal assuring us that all teaching will be done at grade

appropriate

levels as well as all activities so we have to take their word for it. I'm hoping that D was picked for this class because he is well behaved and is smart and can do it. The scuttlebutt was the teacher he was originally assigned isn't as good so maybe it's a good thing it was switched.
I am trying to look on the bright side. She did know to call him by his middle name on the first day since she had taught over at his old school while he was there so there was none of that name discussions need(a huge relief to me). Several of his friends from last year are in his class do D was thrilled by that(one boy and him have kept in touch via phone all summer long). The best part was that both D and DH liked her. I did not get to go over there and meet her because I had to take G to his first day so my first chance to meet her won't be until later this month so I just have to trust DH and see how it goes. Maybe this might even spur him to work a little harder and work better. He can do the math, it just doesn't come as easy to him. And as I've learned over the years with him, you can only push him so hard and he will do it his own way, in his own time.
G was very, very excited about the first day. I told him he didn't have to get up as early and could stay in bed but he popped right up and was ready to go. As it was we left 10 minutes early for the bus stop because he just could not sit still at home. Then the bus was late on top of that so I felt like I spent most of my day at the bus stop, and really I did.
His teacher this year is the same teacher that D had for Kindergarten

and

for second grade so with this being the third time around with her I'm very

comfortable

with what to expect from her. I don't love her teaching style, I think she can be a little too positive because if you say everyone/everything is great, how can you improve? Still her style I think suited D and will suit G to a T and I think G will

excel

with her. She seemed excited to have G there and since she really knew his name well, he was her helper this morning. The only down side is there was only one kid from his class last year but knowing G he will make friends in no time!!
Here he was before we left for the bus stop: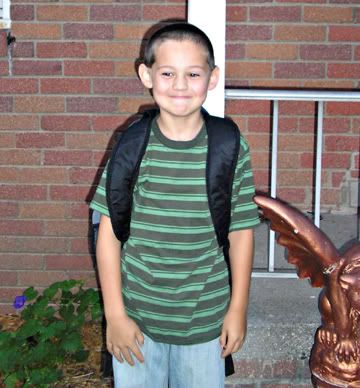 Everything else is about the same around here. Like I said it was a pretty decent summer. I turned 40 Memorial Day weekend. It wasn't horrible and I feel really no different. DH will turn 40 tomorrow but we will celebrate it on Friday with D's birthday. DH and I celebrated our 18

th

Wedding Anniversary in August which I think is a huge

achievement

. We also celebrated the 1 year anniversary of Stephanie moving in. For a decision I took so much flack about, it's turned out really well I think. It has put us all in much better shape than we would have been otherwise so in the long run it's been a positive thing. Isis also turned one and we adopted another kitty in July. He is a 4 year old male white and black cat named Houdini. He is more of a loner but he is fun to have. The only downside is not a lot of stitching was done this summer. It seemed we were busy and when we had any down time, it was too hot/humid to stitch. I'm hoping that will change now that the kids are back in school and I have more days free.