Ok, this looks so much better: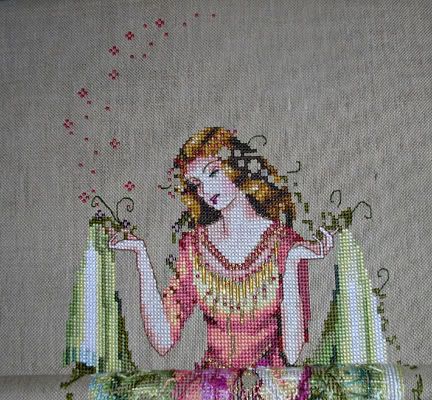 Designed by Nora Corbet, Copyright Mirablilia Designs
I took out the nutmeg colored bugle beads and replaced them with the gold bugle beads and I think they looks so much better. I'm really pleased. Again the red beads aren't photographing well but they all meld much better together. I'll still use the nutmeg bugle beads along the sides where they are placed like twigs along the sides of her dress.
So far the morning has been off to a good start. The kids had a late start at school which means they start school and the bus comes exactly one hour later. It's meant to give teachers a chance to for meetings and stuff. It was nice to get that extra hour of sleep and have a bit of a slower pace in the morning.
I need to mop my floors today so it will be a little while before I get back to beading but now that I solve my bugle bead problem, I'm looking forward to getting it done!