3 new kitty pictures
All of these were taken yesterday. She was in quite a mood and just all over the place, and played what seemed like non-stop.
Here she is with our dog. I think Anna would like to be friends but Isis isn't so sure:
Here she is on her way to sit on my lap at the computer(she is losing her kind of exotic looks as she fills out more):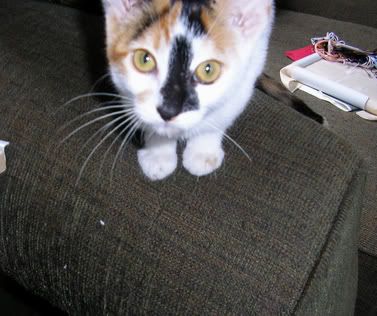 And here she is during her rare down time yesterday. Is that not the best annoyed cat face:
So D is getting pretty nervous about going back to school and I have to say I am a little too, for him. We were talking last night and he said that he is most scared of getting a mean teacher like he had in first grade. I'm still kicking myself for that entire year. I *knew* she was not the right teacher for D and it was such a hard year for him and for us. I should of pushed harder to have him moved and I'm really angry at myself for not sticking up for him more. I just didn't want to be that pushy, obnoxious parent, and it cost D a year. Not that he is traumatized for life or anything like that but it has made him leary of school, and me as well. Still I'm hoping that 3rd grade can be as productive for him as 2nd grade was. And let me tell you, any not so great feelings about this teacher, and I will become that pushy parent, though hopefully nice about it.
G on the other hand is so excited. I'm not sure if it's just the prospect of carrying his new Yu-Gi-Oh backpack or going to school but he says he "can't wait". I hope he can make a new friend. He was very close to a little boy last year but they boy moved to Florida and G still says he misses him. G was very concerned for him last night when he saw the coverage of Ernesto on the news(not sure if it's a hurricane or storm since I wasn't paying attention).
Tonight is Wednesday BBQ. Steph has school so she probably will miss most of it but we are still going to grill. Tonight it is some chicken which I will marinate withFatija spices and we will slice them after grilling and turn it into Chicken Fajita's, along with some veggies, beans, rice, and cookies for desert. You can feel the coolness in the air now at night and the days are getting shorter so I'm trying to savor every BBQ. Of course DH says we can haul the grill up on the deck and grill in the winter too.....
I'm desperately trying to get out of my stitching slump but I can't seem to do it. I've kitted up a couple of ornaments, pulled 2 other ornament kits I had in my stash, and I keep intending to sit down and stitch but every time I do, someone interrupts, or get sidetracked by the computer, or the TV, or the kids, or something else. I do miss it and this is the longest slump I think I have had. I'm not really sure what else to do to get out of it. New stash is not an option so I keep prowling through my stuff to see if something sparks my interest.